Why a white poet did not translate Amanda Gorman
Amanda Gorman's The Hill We Climb stole the show at Joe Biden's presidential inauguration but when a renowned Dutch author was asked to translate her work there was an outcry because the translator is not black.
Critics said it was not just about skin colour but identity too. This was not simply about translation but whether Gorman's poetry could be accurately reflected, interpreted by someone of a different ethnicity, genre, and mother tongue.
One day after accepting the task, Marieke Lucas Rijneveld decided not to go ahead after all.
Who is Rijneveld?
Dutch publisher Meulenhoff described poet Marieke Lucas Rijneveld as a "dream candidate", who at 29 became the youngest author to win the International Booker prize in 2020 with debut novel The Discomfort of Evening. Amanda Gorman had selected Rijneveld herself, as a fellow young writer who had also come to fame early, said the publisher.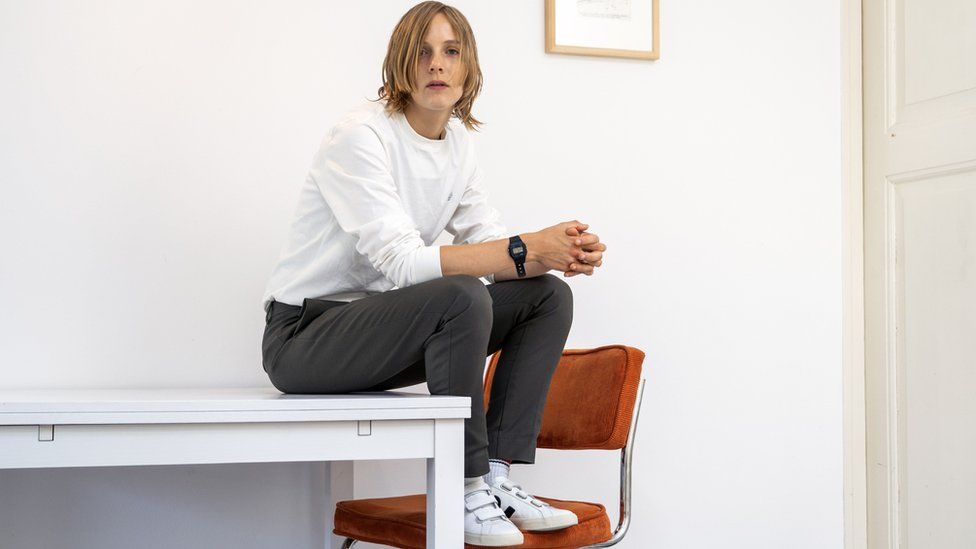 Outspoken on issues including gender equality and mental health, Rijneveld identifies as non-binary and uses the pronouns they/them.
Marieke Lucas Rijneveld initially revealed the news of being chosen to translate Amanda Gorman's works on Twitter, accompanied by two sparkling heart emojis. There was praise too for a poet who had highlighted their own respective struggles, and congratulations on a first translation job.https://buy.tinypass.com/checkout/template/cacheableShow?aid=tYOkq7qlAI&templateId=OTBYI8Q89QWC&templateVariantId=OTV0YFYSXVQWV&offerId=fakeOfferId&experienceId=EXAWX60BX4NU&iframeId=offer_eb2a299fd02ae654cc79-0
Why the outcry?
"Incomprehensible" was how Janice Deul described the choice of a white translator. In an opinion piece for the Volkskrant newspaper the journalist and diversity campaigner suggested instead going for someone like Gorman who was a "spoken word artist, young, a woman and unapologetically black".https://emp.bbc.com/emp/SMPj/2.39.19/iframe.htmlmedia captionThe Amanda Gorman effect: How the young poet is inspiring a new generation of artists
"I'm not saying a black person can't translate white work, and vice versa," Janice Deul told me when we met near her home in Leiden. "But not this specific poem of this specific orator in this Black Lives Matter area, that's the whole issue."
Unlike written poetry, spoken word is less about the visuals on a page than rhyme, repetition and word-play and can encompass elements of hip-hop and improvisation.BBCThe performer (Gorman) is someone who's into slam poetry and slam poetry is about flow and rhythm. When you don't know that, the whole form will have a different meaning and rhythm.
Dutch journalist
Ethics or ethnicity?
Translators serve as a bridge between two languages and Monica Slingerland, head of the opinion editorial team at Trouw newspaper, believes the Gorman debate has raised significant issues that have not really surfaced before.
"I tried to get out of the skin tone issue for a moment and ask the question again. Can a man translate a book about giving birth? A look into the bookcase shows that this requirement was rarely imposed on the translator in the past, not even with books that are at least as loaded with content as Gorman's poem."
She cites Simone de Beauvoir's feminist pamphlet The Second Sex, translated into Dutch by a man. Or Americanah by Nigerian author Chimamanda Ngozi Adichie, translated into Dutch by Hien Montijn who is of Chinese-Indonesian descent.
For Quinsy Gario, a black Dutch spoken word artist, Gorman's words need to be handled with care as they involve embodied knowledge and the cultural baggage that come with being black. "The Dutch language needs to have a conduit, a person that's been able to push to the same extent as Amanda Gorman did, and connect to a local understanding of what those words mean, and how those words can resonate."Annemarija GulbeWhat figures of speech connect to the lived experience of black women in the Netherlands the same way that connect to Amanda Gorman's lived experience as a black woman in the US?
Why Rijneveld was asked
Although Amanda Gorman did initially agree to the Dutch poet translating her work, none of the Netherlands' black spoken word poets were presented to her as options.
In a statement the publisher told the BBC: "Meulenhoff asked MLR if they wanted to be the translator. They said yes, and then Meulenhoff sent their profile to the American agent as their preferred choice." Three "sensitivity readers" had been included in the contract.
It was a decision that Janice Deul believes perpetuated the marginalisation of black voices in the Netherlands. She wants Dutch publishing houses to expand their horizons and look behind their "white ivory tower". "Why only celebrate Amanda, as we should? Why be blind to all the talents we have in our own country," she asks.
Among the many examples of black Dutch poets are Zaire Krieger, whose work encapsulates the challenges of being a woman of colour in a white country, Rachel Rumai who recently published Afro Lit and spoken word artist Babs Gons, whose Polyglot was chosen as the poem for 2021 Dutch Book Week.
How did Rijneveld respond?
Marieke Lucas Rijneveld answered the critics with a poem, Everything inhabitable, published in a number of newspapers, including in English translation in the UK.
Never lost that resistance and yet able to grasp when it isn't your place,
when you must kneel for a poem because another person can make it more inhabitable;
not out of unwillingness, not out of dismay, but because you know there is so much inequality, people still discriminated against
Excerpt from Everything inhabitable
It was written in Dutch and translated into English by Michele Hutchison. Not surprising for a poet who admitted last year to having "very bad English".
But Rijneveld's decision not to translate Amanda Gorman's poem into Dutch has only heightened the debate in the Netherlands over the ethics of translation and underlined Gorman's original sentiments of the hills that "all other black girls" must climb.
News source: BBC News